TECHNOLOGY AND THE FUTURE OF JOBS
You may have heard by now that technology will change our world so much over the next ten years, waves of workers will be displaced.  During this industrial revolution, automation and artificial intelligence are definitely going to change our world. There's no doubt about that.  However, Dr. Byron Clayton, CEO of Advanced Robotics for Manufacturing said while there's no doubt there will be some workers displaced, it is expected more jobs will be created than lost. You may be asking yourself how is it that more jobs will be created.  Well, partially because it will be necessary for people to service and repair the automation that is created. The key to remember here is there will be opportunities for people to collaborate with automation.
For more information, watch the below video to see what other insights Dr. Clayton gives around technology and the future:
In agreement with Dr. Clayton is Ben Pring, Vice President and Director of Teaneck, New Jersey's Cognizant's Center for the Future of Work. Mr. Pring states "we speculate tech will create more jobs than it destroys." The company compiled a list of 42  jobs they predict will become reality over the next 10 years.  The majority of  those jobs will involve humans developing or managing some kind of technology.
To put the future of technology into perspective, here are some statistics:
1. According to Kai-Fu Lee, Specialist and Venture Capitalist, robots will replace 40% of all current jobs within the next 15 to 25 years.
2. Willis Towers Watson 2019 Pathways to Digital Enablement Survey, says that 17% of work is currently automated.  This statistic is up 8% compared to three years ago. They also say automation is expected to reach 30% by 2022, which is only three years from now.
Ravin Jesuthasan, Managing Director at Willis Tower's Watson, states "as computers take on more tasks, human oversight will become increasingly important" and adds he thinks there will be a huge area of growth.
You can see that there is much expected growth in the area of automation. Are you ready?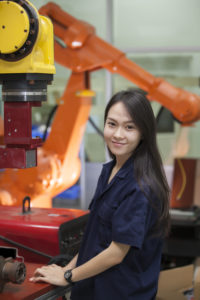 How You Can Prepare For the Future
The challenge for companies will be to find talent with what is now known by some experts as power skills, which are a high level of soft skills. Power skills consist of the following:
– ability to show empathy
– problem solving
– communication
– negotiating
– learning
Out of all the skills, the most critical is "learnability". In experienced workers, this skill may be easily traced by looking at a person's ability to successfully reinvent themselves throughout their career. When the trait isn't as obvious, companies will rely on personality tests and games to decide on a person's ability to master new skills needed.
What exactly is learnability? According to Aseel Badran, Author at AIESEC, it is "the ability and desire for someone to learn new skills quickly and adapt to different ways of doing things."
According to Right Management's article Learnability: The Key to Success for Organizations and Individuals, learnability gives companies access to wider talent pools while making sure employees drive their careers through using these specific skills. 
Sam Ellis, Learning and Culture Director of Brand Learning explains more about learnability in the video below:
---
What Does This Mean For You?
Since you have already read here that learnability is the most critical skill to have, the question is what can you do to ensure you obtain this skill?
According to Aseel Badran's article Learnability – The Must-Have Characteristic of the Future explains what is needed in the educational environment to obtain this skill set.  As a student, you will need to determine if this skill set is being taught to you through your academic environment. If it's not, then take it upon yourself  to obtain this critical skill. According to Ms. Badran, these are the necessary elements to obtaining learnability:
1. Practice active listening – Watch the video Five Ways to Listen Better  by Julian Treasure which is also listed under Career Videos in my  Video Library. You will be given in-depth ways to re-tune your ears for better listening. 
2. Ask questions – If you ever find yourself in a situation where you don't know or understand something, don't be afraid to ask questions. If you don't want to ask in an open forum, take the time to speak with the professor or speaker one-on-one.

3. Find out your specific method of learning – As we all know, there are different ways individuals learn.  Some people learn by listening, while others learn by seeing and experiencing. By now, you know what method works best for you, so tap further into your method of learning.
4. Read, read, read –  Our 33rd President of the United States, Harry S. Truman, said "not all readers are leaders, but all leaders are readers." Why is reading so important? According to the article, 5 Reasons Why All Leaders Are Readers, the number one reason is because reading elevates us above our current situation. If you want to rise in your career, you must elevate yourself. If you want to obtain the skill of learnability, it's all about learning. Reading will help you do just that – learn.
5. Express your creativity – There is not always one way to solve a problem, so discover new ways of doing things or learn what doesn't work in situations. Take that experience and learn from that. Don't ever stop being curious about the world around you.
If you are a student thinking about getting into the manufacturing field, don't let this fourth industrial revolution steer you away from that. There is still plenty of room for your talent and automation to work together to make an even brighter future.
---
FINAL THOUGHTS
Employers will seek ways to measure learnability in their recruitment processes, so don't get left behind. Seek to gain this critical skill in an effort to be more employable in the future of technology.
I wish you all the best in your career endeavors.
---
I like to hear from my visitors. Was this article helpful to you?