WHY COMMUNICATION SKILLS ARE IMPORTANT
Communicating effectively is very important – especially in the workplace.  According to NACE (National Association of Colleges and Employers), oral and written communication falls second on the list of competencies that college graduates need for workplace success. That certainly is an indication of how important companies view communication skills. It's also why communication skills are important.
ORAL COMMUNICATION
It is important to be able to communicate effectively – both inside and outside your organization. When you attend networking events, for example, you are a representative of your organization. As you speak with others, it's important to be able to convey what your organization does and answer questions that someone may ask. Keep in mind as you're networking, people may be watching how you interact with others and things have a tendency to get back to companies.
WRITTEN COMMUNICATION
In the world we live in, many people text each other to communicate. When employees are out of the office, you may need to periodically text your boss a short update or send a quick update text to a co-worker. In communicating by text, we try to keep things short and simple. We  have a tendency to abbreviate and/or send emojis. If that is the way your organization effectively communicates in certain situations, that's something you will have to determine. Every organizational culture is different.
However, when it comes to sending a formal email within the organization, it is not professional to communicate the same way you do when texting. Therefore, don't use abbreviated words and symbols.
As I've stated, every organization has its own culture. You will quickly learn your company culture and expectations when it comes to communicating within it.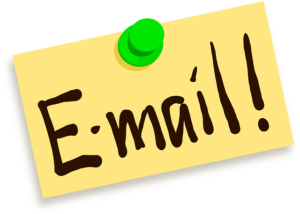 > Email Etiquette
When sending formal emails within your organization, make sure you know how to write proper emails.  Also, keep in mind that writing a formal email is very different than texting. It is not the time to write abbreviations and add your favorite emojis!
1. Showing Respect
When communicating in company emails to – especially higher ups in the organization (President, Vice-President, Board Members, Department Heads, etc.) – you should be more formal by greeting them accordingly and with respect.  Starting your email with "Hey Mark" as you would your childhood friend is definitely not appropriate. "Dear Mr. Simpson" shows the respect the person deserves – especially if the person you're addressing is your boss.
2. Blind Copying Others
Every company has its own culture. When you are working in your specific culture, you will learn how to navigate within it. Personally, as a general rule of thumb, I don't blind copy on emails. I feel it shows that I'm trying to hide something or get someone into trouble. Therefore, I show the information has been sent to the person by copying them. Now, it depends on the situation and the nature of the email. Sometimes if you want to make sure and share information, it saves you extra time by copying someone than having to send then forward. That is a judgement call on your part. Just remember that when you hit the "send" button, you don't know where an email can end up. Be very careful about copying others in on information. Think things through before sending information out – especially when sending company-wide.
3. Replying to All
This topic tends to come up quite often when discussing email etiquette. Sometimes it's just not necessary to "reply to all".  Depending on the given situation, it may be only necessary to respond to the original sender of the email. Sometimes people don't read details of emails and may miss what is expected. Make sure you read your emails in detail before responding.
4. Reading Carefully
People have a tendency to read only the first two lines of emails – especially when they are long. However, the information included in the rest of the email may be very important information to know. Therefore, read email thoroughly – especially if you must respond to it.
The advice is the same for hard copy correspondence. If you are given a report to read, make sure you pay close attention to the details. Read all company-related emails and correspondence thoroughly. You never know when you may be asked, either face-to-face or in a meeting, about what you were given. If you read and are prepared, you will have the necessary and pertinent information needed to respond accordingly and confidently.
5. Taking Care of Internal Customers
Several years ago, while working in a company's HR department, it was expected we would respond to emails and voicemail messages within a 24-hour time frame – even if it was just to acknowledge we received the person's message and were working on their request. Sometimes internal customers can become just as irritated as external customers. When that happens, things can sometimes get blown out of proportion.  Try to avoid those situations by acknowledging peoples' requests even if it's to say you are currently working on whatever it is they have requested of you. At that point, also give them specifics on when they can expect to hear from you.
Communicating effectively can go a long way within an organization. It can also make you the "go-to" person because you will develop a reputation for someone who gets things done.
ADDITIONAL INFORMATION
For additional information, please feel free to read the following excellent article, The Do's and Don'ts of Email Etiquette.
---
ADDITIONAL COMMUNICATION SKILLS
While oral and written communication are very high on the list to be successful in the workplace, there are other communication skills I'd like to discuss as well which are verbal, non-verbal and listening skills.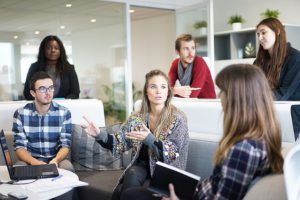 VERBAL COMMUNICATIONS IN THE WORKPLACE
Many times in the workplace, people choose to email each other. It's a quick way of getting information to someone – especially when they are in a different department or building. There is nothing wrong with communicating in that fashion. However, I have found it very effective to communicate face-to-face with someone if I needed to discuss a more serious or troubling work-related matter.
The problem with using emails sometimes is the receiving person can't judge the tone of voice or attitude of the sender. I have personally seen things taken out of context and  miscommunicated through emails simply because the receiver couldn't judge the attitude of the sender. Therefore, use your own judgement when communicating with others. Instead of sending an email, maybe it's simply getting up and going to visit the person face-to-face to talk through the situation. It could make a world of difference with getting tasks completed effectively and efficiently.
NON-VERBAL COMMUNICATIONS
There are many things you can do non-verbally to let others know if you are listening. The way you stand, if you are sitting up straight, or have your arms folded across your body can all be signs of whether you're listening and engaged. This great article Types of Nonverbal Communication discusses different types of nonverbal communication. Being aware of your nonverbals in the workplace can make a difference in how your bosses and co-workers feel when approaching you.  Keeping these in mind can also help you as you are interviewing for positions if you plan on being promoted within your organization.
LISTENING SKILLS
How well do you listen to others when communicating? When receiving detailed instructions on how to do something, it is very important to pay attention. Especially when starting a new job, during the training, I always made it a habit to build my own resource manual. I tend to write a lot and take many notes. My note-taking abilities really came in handy as I was learning how to do new tasks. I found my co-workers coming to me many times to receive advice and sometimes  to ask for copies of my written notes!
Watch the below video, to obtain ways to listen better:
---
FINAL THOUGHTS
Oral and written communication falls second on the list of competencies that college graduates need for workplace success. However, the other communication skills are important as well – verbal, non-verbal and listening. One thing to remember is learning how to communicate effectively and efficiently outside of your organization is just as important as internally. This is especially important when attending events where you are representing your organization. Learn how to effectively communicate not only orally but in written format as well, including emails.
I wish you all the best in your career endeavors.
---
I like to hear from my visitors. Was this article helpful to you?