"Show me a successful individual and I'll show you someone who had real positive influences in his or her life.
I don't care what you do for a living—if you do it well I'm sure there was someone cheering you on or
showing the way. A mentor." — Denzel Washington
WHY HAVING A MENTOR IS IMPORTANT
A mentor is someone who is experienced and someone you can trust to advise you.  Seeking and finding a mentor can sometimes take time, but building the right relationship can make all the difference in your career. That is why having a mentor is important.
FAMOUS MENTORS AND THEIR MENTEES
There are several famous people who have benefited from mentors. Do you recognize any of these mentors and their mentees?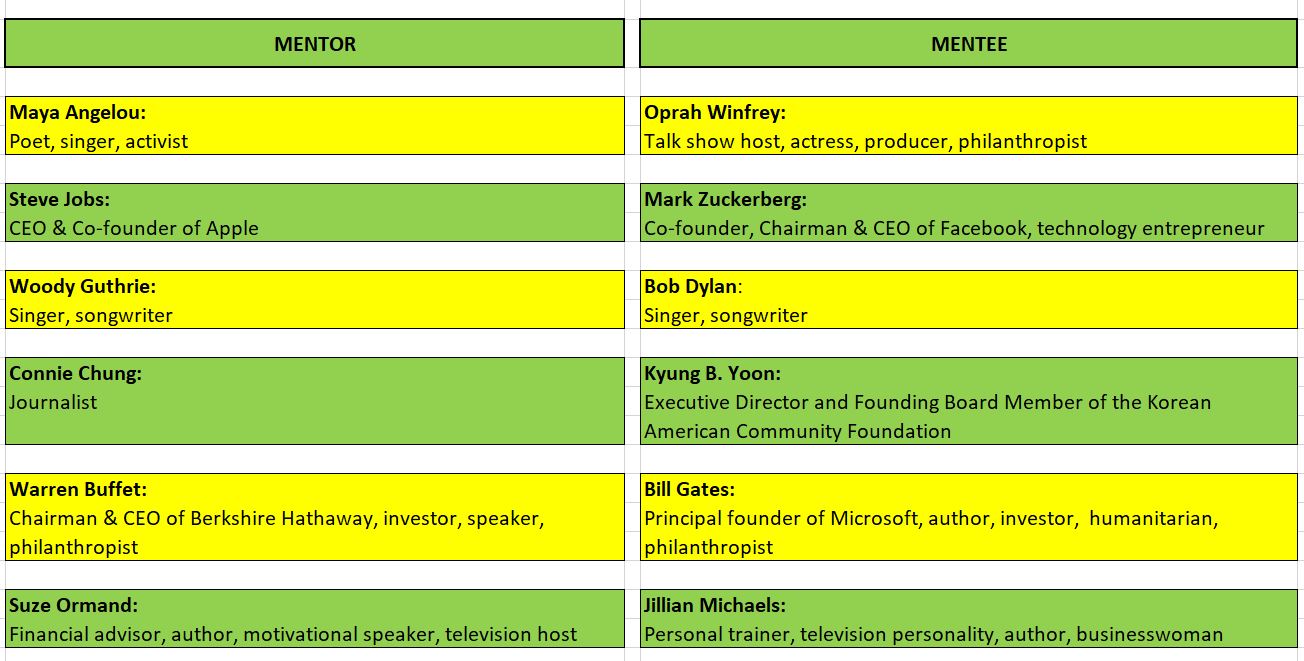 So, once again, you will see that several famous people had mentors. It shows just how important this aspect of life can be. From this list, you will see there are career similarities between the mentor  and their mentee.  Many times a mentor is in the same industry and share interests. Having that type of relationship is crucial so the mentor can give good and sound advice to help their mentee.

DO YOU REALLY NEED A MENTOR?
Over the years, I held human resources positions in a variety of industries. I learned something early on in my career – there was always someone more knowledgeable in the field than me. I quickly realized that it was great to have someone to bounce ideas off of as well as ask for advice whenever I was unsure of a situation. Having someone to advise me through my career definitely made my life easier.
I have had several different mentors in my various fields and to this day, I am still in contact with many of those people.

THINGS TO KEEP IN MIND
There are several aspects to keep in mind when looking for a mentor. Asking right away could be very overwhelming to someone, so keep that in mind. It is best to build a relationship with that person, first.
How to Find a Mentor by Jeff Goins is a great article to read when looking for a mentor. As you will note, there are important steps to seeking and finding a mentor.
It may not always be easy to find a mentor at first. However, as the video above stated, there are several companies that have mentoring programs. Therefore, talk with your boss or human resources to find out if your company has a program.
Are you on LinkedIn? By doing a search, you can find alum from your alma mater in your field. That could be a great place to start because you already have something in common – your school. If you didn't attend or graduate from college, LinkedIn can still be a great place as you meet people in your field and build connections. As stated before, building relationships is key.

SEEKING ADVICE FROM YOUR MENTOR
Once you establish a relationship and find a mentor, remember, this person may not always tell you what you want to hear, but what you need to know – good or bad. If you have someone you can trust, they should be honest with you so you can stretch and grow in your career. Sometimes stretching and growing may mean doing something that is outside your normal "comfort zone" so excel in your career.  While it is fine working within the confines of your comfort zone, remember this: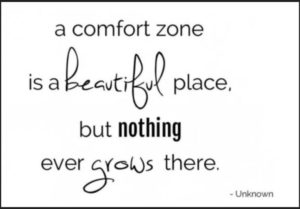 In an effort to grow in your career, you may need to do things you have not done before in order to get where you want to be….and that's okay! For example, you may end up working on a project with unfamiliar people in a totally different department. Maybe your boss is trying to find out how collaborative you are. Or maybe you have been informed you are the lead on a new initiative within your group. Maybe your boss is trying to evaluate how creative you are. If you find yourself in these kinds of situations, that's when a mentor can help you. By talking with that person, you may find out they worked on a similar project or initiative and can help give you some great advice.
BEING A GOOD MENTEE IS KEY
Just as finding a good mentor is crucial, being a good mentee is key! Some things to keep in mind is as follows:
1. Your Commitment
One important thing to keep in mind is that you need to be committed for the mentor/mentee relationship to be successful. Therefore, if you ask someone to meet with you, be respectful by making sure you arrive on time. If something unexpected happens and you are not able to keep your appointment, make sure to contact them as soon as possible to reschedule. Always be respectful of others' time.
2. Your Responsibility
As your mentor is providing you with advice, it is up to you what you do with that advice. Therefore, you will need to take responsibility in this relationship to do what is being asked of you. If you have chosen someone to become your mentor, then it shows you have put trust in that person to advise you, so govern yourself accordingly and do your part.
3. Come Prepared
Because your mentor may be limited for time, come to each meeting prepared with an agenda. Being prepared beforehand will help the meeting be more productive and run smoothly.
4. Provide Honest Feedback
As you meet with your mentor, give honest feedback. He or she is not going to know exactly what is going on in your world if you don't let them know. Maybe a plan you decided to implement did not work exactly as planned. Let your mentor know that so that you can come up with alternative ways to approach the situation/project at hand.
5. Be Grateful
Remember your mentor is doing this voluntarily. Therefore, take the time to show them how grateful you are for their time. Expressing your gratitude will go a long way.
For more information, watch the below video, "Why You Need a Mentor and How to Find One":
FINAL THOUGHTS
Finding a mentor to advise you through your career can be critical. Having someone in your field or with similar interests can prove to be extremely helpful to you. Just as taking the steps to find a mentor is important, being a good mentee is just as important. Take the time to start building relationships now – your career may depend on it.
---
I like to hear from visitors. Was this article helpful to you?